ATV is an online TV as well as a film studio.  How did you come up with the idea  of creating an online TV?...
ATV is an online TV as well as a film studio.  How did you come up with the idea  of creating an online TV?
We live in the 21st century and we can observe how Polish media connect with the online ones and how the Internet has become a worldwide system of connections between computers. Currently, practically everyone has a PC or a laptop at home. What you need is one click to watch this or that TV channel. Internet is a global and universal system for exchanging information and communicating. This is why, for now, I am going to stick with online TV, as I see its huge potential. And that potential is the reason why the National Broadcasting Council also supervises and controls online TV now, including us, as we are registered in the National Court Register.
How did it all start?
From 2005 until four years ago, I was only involved in running my law office located in the centre of Warsaw, which I still do in fact. I also published philosophical-theological books and engaged in art, mainly by organising exhibitions of my works, which were inspired by my stay in the convent of the Order of Preachers in Fastiv, near Kiev. That stay lasted 10 years  and had a profound influence on my personal development. But the times change together with  the demands of the market, and that is why  four years ago, I came up with an idea that, instead of pursuing my artistic passion, I should create my own television programme "Iluminaticon", which was later renamed to "I'CON". Because every television programme needs a place where is can exist, in 2012,  I decided to establish online TV called ATV.  It is developing dynamically together with the film studio "ATV" and a law office, which has the same name. It consists of several people, who are very passionate about their job and very professional,  while at the same time trying to give the viewers  what they want. And you can see this commitment  of curious and hard-working people in every programme. It is a fresh and creative  approach to online television.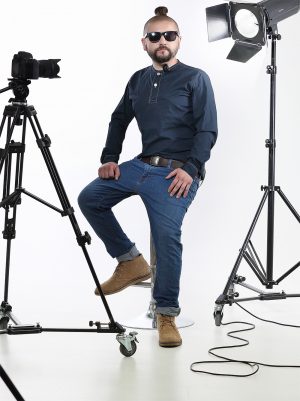 Recently, you have received an award  for your documentary. Could you please say  something more about it?
The film "Attempt on the State" received the first award of "International Indie Filmmakers Hall of Fame", which is an international film festival held in the USA, for Best Documentary Short Subject. I am the director and the screenwriter and the film was produced by ATV Television in 2015. It tells a story of a family living in Latvia and their tragedy. It was created taking into consideration the aspect of the country's history.  Can you imagine that in the 21st century, in a European  and democratic country, people still live controlled by secret service and those brave enough to fight against  it are physically and mentally tormented by those holding high offices, who use Black PR, threats and who kidnap children and attempt murder. A married couple of Inara Vilkaste and Wladimir Iwaszkiewicz have gone through this nightmare and currently they are fighting for justice before the European Court of Human Rights in Strasbourg. The film is registered on an international platform for films, which will take part in festivals.  In Poland, the première will take place at the end of 2016 or at the beginning of 2017, when the festivals in which  it takes part are over. Till then, it cannot be released  or publicly presented according to the rules imposed  by the organisers.
You have many interests, don't you? Where does your passion for journalism come from?
It comes from the fact that I want to create using  a written word and an invisible word, meaning through image. I am a broadcast journalist and although I wasn't born in Poland, I am partly a Pole as well as a Ukrainian and a Tatar. I like the profession as I can be who I am and express my opinion, providing people with honest information, which comply with the journalism ethics  and, at the same time, present the history of the country, the customs, the family. It is also a way for me  to develop artistically and culturally. Being a reporter, preparing and recording interviews is a form of art and here I would like to quote the Bible: "In the beginning  it was Word". A word is actually a beginning  of everything. If you master the art of preparing journalist material, you can achieve a lot in life.  Indeed, great people in the course of history created beautiful works of art and poetry. My passion  is to be a broadcast journalist exactly with  this objective in mind – to follow in the steps of my ancestors, manyof whom were great individuals  like Andriej Tarkowski (a film director) and Arsenij Tarkowski (a poet), in order to create the image  of the word.
What is success for you?
This is a difficult question. Everybody wants to achieve success in life. For me, it refers both to small things and goals I have set for myself a long time ago and I am tirelessly trying to achieve with my honesty and hard work. The prize for your efforts is when the society or the industry see and appreciate it and when you leave something you will be remembered for. The point is not to waste your life standing in the same place, but to develop intellectually, spiritually and professionally, so that when your life  is coming to an end, you can tell yourself  that you have done something important with it. My dream is to achieve success when  I least expect it, especially when it comes  to documentaries.
Do you think that working in the media is a hard job?
It is true. In Poland, this sector is quite challenging just like the whole art-related industry. For me, as someone who works  in the Polish media, it is indeed tough.  If I wanted to make a living only working  as a journalist, it might be impossible.  That is why I work as a lawyer in my law office ATV, which is the main source of funding for ATV television. I think that, with time, it will get better, but for now, it is not easy. When you observe one magazine or online TV, you can see that they often disappear. But somehow we need to survive the hard times. My television, however,  is constantly developing and the prospects for the future are more than optimistic, especially because the programmes are not only available through the online television, but also on a fibre-optic TV channel "Twoja. TV". In the future, we hope that AVT will be available not only in the whole country on cable TV, but also abroad.
Do you feel that what you do is meaningful?
Of course. It is meaningful, but I am planning to change some aspects and focus more on producing documentaries, not only reportage or TV interviews. Film productions make sense and offer the possibility of earning money and gaining funds necessary to continue the work, while what we do now can hardly offer the same. I observe programmes of other Polish online televisions and they are very much alike, which m akes the viewers bored when they see similar interviews. They expect something new, in the American or British style, where everything is dynamic and innovative. That is why I want to go in this direction, to stand out. Soon, I am planning to start some new projects. In today's world, we need to have new solutions and ideas, which I won't reveal for now because the competition is always ready to act. I often say that an idea needs time to perfect,  and as a result, the audience will appreciate it.  That is why sometimes I like to work in secret  in order to finally come out with a project  or a production that will surprise many.